Rose DeLuca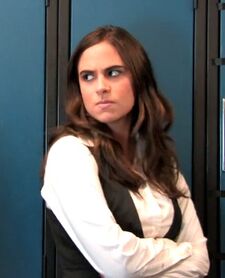 | | |
| --- | --- |
| First appearance | 1.01 "How To Deal With A New School" |
| Created by  | Raishel Wasserman, Justine Wasserman, and Rhiannon Goodrich |
| Portrayed by  | Faith D'Amato |
Information

Name
Rose DeLuca
Age
16
Schools
River Blossom High
Town of Origin
River Blossom, Colorado
Love Interests
Brad Fischer
Rose DeLuca, portrayed by Faith D'Amato, is a student at River Blossom High School.
Character Overview
Edit
A high strung economics student, Rose can often be seen sitting around playing the stock market during school hours. During her free time, she mingles with the jocks - Brad Fischer and his friend Brody Knox. While her name is never mentioned in the first two episodes, it is listed on Brad's scoreboard in his weight room.
Relationships
Edit
Rose is often seen spending time with Brad and it is therefore assumed the two are dating.